Back to all News & Stories
Gebretsahme Welde Selase
Meet Gebretsahme Welde Selase, a bilaterally blind 54 year-old elementary school teacher from Axum, Ethiopia
Gebre's cataract blindness had progressed to the point he could no longer teach. With a family to support and his government benefits coming to an end in a few months, he needed to start teaching again. Hope came when the Himalayan Cataract Project (HCP) began screening patients for an upcoming high volume surgical outreach at St. Mary's Aksum Hospital.
Three days before surgery Gebre was quiet and somber – not fully confident his sight would return. He shared that he was looking forward to reading again, to walking the streets (he never leaves the house because he is afraid of being hit by traffic), and to returning to his students.
Gebre stood stoically in his garden the morning of his surgery, patiently waiting for his wife to walk him to the hospital - only a ten-minute walk away. Gebre is lucky, as the majority of patients travel from far away villages for outreaches. For some, the journey includes a two hour bus ride.
When Gebre arrived at St. Mary's Aksum Hospital, it was bustling with activity as the ophthalmic staff prepared for a busy day. The setting at cataract outreach events is often fast paced as there are hundreds of patients and an assembly line approach to registering, screening and preparing for surgery. Patients form lines and work through the registration, visual acuity screening, and pre-operative preparation (eyelash trim and local anesthetics) before they are led into the operating room for cataract surgery. After the procedure, the patients rejoin their families and await the next morning for patch removal and post-operative instructions.
The process was challenging for Gebre as he was escorted from station to station – waiting in line again before entering each examination room. After being moved one last time to the pre-operative waiting area, he settled into conversation with the others around him. At this point the discourse grew more lively and Gebre smiled for the first time that day – almost as if he was beginning to believe his sight would be returned.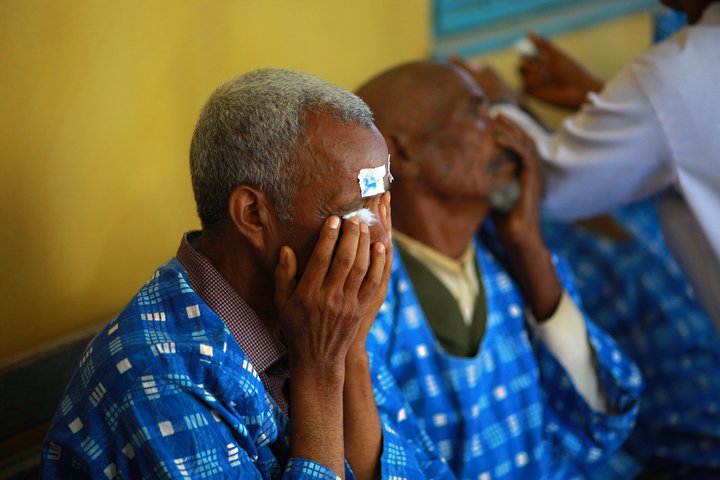 In the operating room, HCP partner Dr. Tilahun Kiros performed Gebre's cataract surgery. In less than 20 minutes, Gebre was sitting up with patches over both his eyes, smiling as he explained how easy and painless the procedure was.
The next day, Gebre arrived at the hospital and headed to the post-operative examination area, where patches are removed and doctors examine the outcomes of the previous day's surgeries. The joy of sight restoration is most evident during this time, as patients and medical staff alike are often overcome with the emotion. There are smiles, tears, hugs and cheers as patients experience renewed sight.
Gebre simply said, "I am happy this morning," as he draped a shawl over his shoulders in the morning chill sitting next to other patients, seeing again for the first time in years.
In a follow up visit two days later, Gebre – who usually sat on the couch in darkness – answered the door with a big smile. The household was more animated than before, seemingly more upbeat and full of warmth. Eager to get back to the classroom, he contacted his supervisor that day at the elementary school and arranged for a visit.
Just three days after his surgery, Gebre made the walk to Kindeya Elementary School. He was greeted and hugged by staff in the schoolyard and administrative offices – then immediately given a class! After touching base with another teacher and a quick review of a math textbook, Gebre walked into a packed classroom. With a piece of chalk and textbook in hand, he began teaching and took command of the class with ease and grace. There was no trace of the slouched over, monosyllabic, depressed person Gebre was when he was blind three days before.
*** Photos and story captured by Alex Quesada, for more info visit: http://www.alexquesada.com