Back to all News & Stories
Dr. Reeta Gurung
One of HCP's most prolific and long-tenured trainer-physician partners is Dr. Reeta Gurung, Chief Executive Officer of the Tilganga Institute of Ophthalmology.
Dr. Reeta is a highly respected cornea specialist and master trainer. She has also been instrumental in helping advance gender equity for eye care through her leadership and mentorship of other ophthalmic professionals from around the world who train with her. Dr. Reeta's leadership and expertise as a trainer has rippled throughout Southeast Asia and sub-Saharan Africa.
Dr. Reeta has treated countless patients throughout her career. Her sincere care for the needlessly blind people she treats is evident in the deep connections and trust she builds with her patients. Dr. Reeta describes how she feels in the moments after a patient regains their sight:
"It is completely different from any other feelings," Dr. Reeta said. "I feel I can play a small part in their lives which would otherwise stay the same. I try not to connect too personally, but this is the way I am. I want to be involved if this involvement makes the patient feel good. This act of mine can tremendously affect the personal life and livelihood of a person."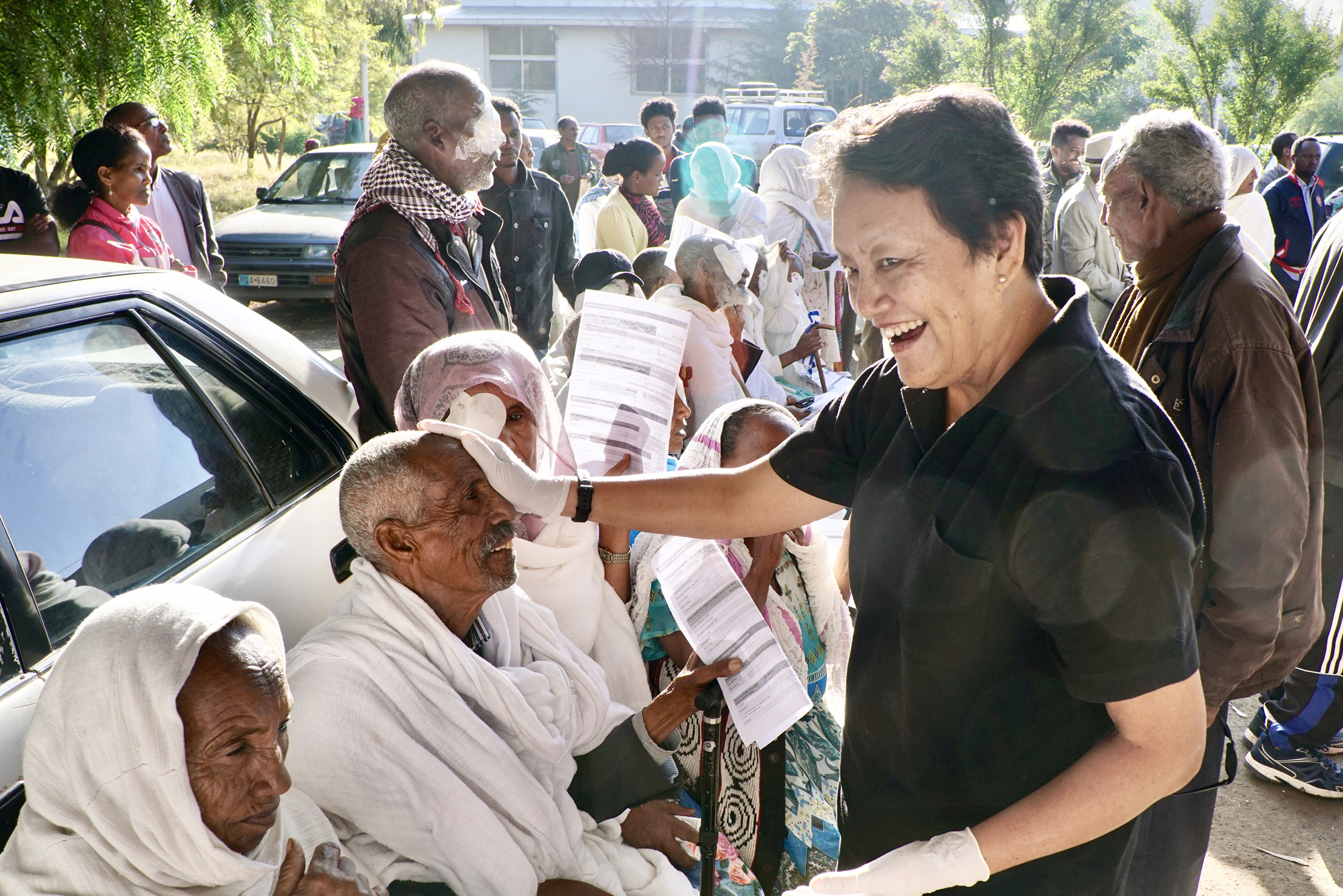 As a master trainer, Dr. Reeta understands the importance of her role, but also sees herself as part of a larger system, working together to reach common goals. She explains how teaching and learning are intertwined at their core: "I learn so many things after training a person. It is always a bilateral process, you teach at the same time you learn. It is a continuous process. We should be ready to take calls, emails any time so that the trainee will feel safe and confident to start on their own when they go back [to their home institution]."
Dr. Reeta believes that training is the first step to ensuring essential skills and knowledge transfer. "Training a person in a particular area is like teaching [someone] how to fish rather than provide him with fish. We have had trainees from all over the world, and I am sure they are training others so that it will be even more impactful."
Dr. Reeta's career as an ophthalmologist began after her sub-specialty training in Bristol, England. In 1993, she connected with HCP Co-founder Dr. Sanduk Ruit to discuss rural eye care in Nepal, and in 2014, Dr. Reeta became Deputy Medical Director at the Tilganga Institute of Ophthalmology. Her dedication and hard work have shaped Tilganga's success in quality of care and impact in the region.
"Tilganga is at a point now that even if an individual is not there, the system will drive Tilganga," Dr. Reeta said. "We have so many talented young people who will drive Tilganga to greater heights."
Dr. Reeta sets the standard for gender inclusion across all of Tilganga's clinical and training programs. She is a member of Nepal's National Gender and Eye Health Group, a multi-disciplinary, multi-institutional group that brings together people and institutions from both public and private sectors to promote gender equity as it relates to eye care in Nepal.
Understanding her impact on gender equality in eye care, Dr. Reeta reflects, "I think it will take very long to be equal. Somebody, somewhere had to start and it happened to be me at Tilganga. It might be just by chance, but now we have a gender policy at Tilganga that offers equal opportunities in all aspects, be it in employment, training, or leadership positions. I am fortunate that I am surrounded by so many talented women making this place unique to work."
Dr. Reeta's talent, dedication and grace inspire all of us. She says, "I am a person with a very humble background. I have made it to this point because of the support of my mentors, colleagues, friends, coworkers, family, and organizations like HCP."