Back to all News & Stories
Dr. Mo Hartstein
This past week HCP Affiliated Ophthalmologist Dr. Morris Hartstein arranged a second shipment of HCP-supported personal protective equipment (PPE) from Israel to Ethiopia for distribution to HCP partner hospitals
As in many parts of the world, PPE is in short supply and this shipment will help partners to provide emergency care as needed in the safest manner possible. Dr. Hartstein is the Director of Ophthalmic Plastic and Reconstructive Surgery at Shamir Medical Center in Israel. Together with his family, he has provided training, eye glasses and basic eye care services, both by directly supporting surgery and training, and helping thousands of Ethiopians over the past six years, often at his own expense.
In 2014, Dr. Harstein's 12-year-old son was researching places for the family to visit on vacation and discovered the Jewish community in Gondar, Ethiopia. Dr. Hartstein was able to connect with HCP Ethiopian partners Drs. Fisseh and Yared as well Meseret Fantahun through HCP co-founder Geoff Tabin. Initially, the family just planned to learn more about the community in Gondar, but when they learned that Dr. Harstein was an eye doctor, a crowd of people gathered for him to provide screening and basic eye care. He returned to Addis and worked with Dr. Meseret who invited the family back to dinner at his house. It was there that Dr. Harstein and his family developed a love for Ethiopian food.
The following year, Dr. Harstein obtained a medical license to work in Ethiopia through HCP and returned with his wife Elisa and four children to set up an eye clinic in the Jewish community of Gondar. They brought reading glasses, eye drops and other supplies, treating hundreds of people with a variety of eye problems. With Dr. Yared at Gondar University Teaching Hospital, Dr. Harstein set up a medical resident exchange program with his hospital in Israel. Since 2015, Dr. Harstein has trained 15 residents with support from HCP and Light For The World, an Austrian NGO. Dr. Harstein has also helped arrange HCP-sponsored sub-specialty training in Israel, including fellowships in pediatrics, cornea and oculo-plastics.
Dr. Harstein's work with Ethiopia has been facilitated by an Ethiopian-Israeli named Negusi who helped Dr. Harstein's first resident trainee, Dr. Tesfelam, during his stay in Israel. Negusi has helped Dr. Harstein provide eye care services to both Jewish and non-Jewish communities around Gondar, including Azezo and a first-ever outreach in Negusi's hometown of Kola Diba. There, Dr. Harstein helped provide over 200 sight-restoring cataract surgeries, trachoma surgeries, and 400 pairs of eyeglasses.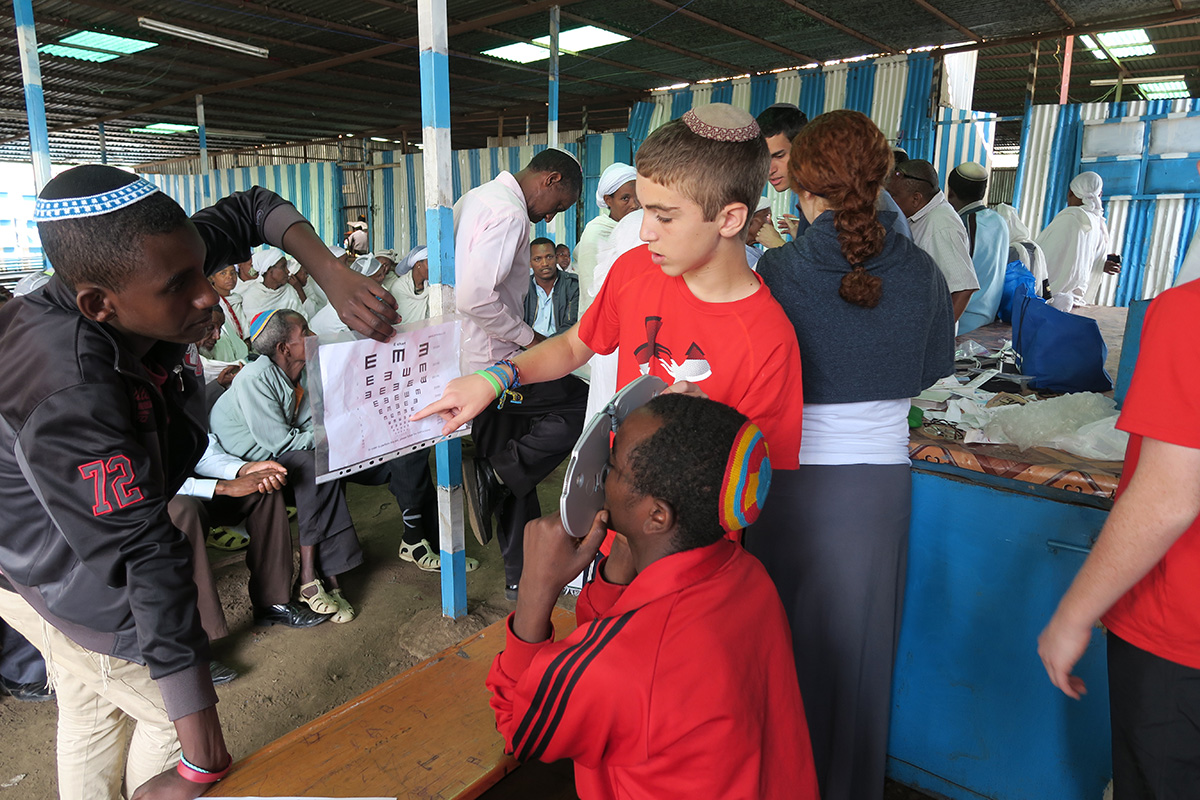 Over the past six years, Dr. Hartstein has examined over 6,000 Ethiopian patients and provided over 1,000 pairs of eyeglasses to those in need. Now, with several of his trainees working back in Ethiopia, he is receiving more requests to provide additional training and support at hospitals in Gondar, Aksum, Awasa and Adama, among others. In fact, most HCP partner hospitals will benefit from Dr. Harstein's work over the next few weeks as they receive masks, face shields, gloves and other PPE to fight the spread of COVID-19
HCP thanks Dr. Harstein and his family for all they have done to help bring the joy of sight restoration to those who need it most.